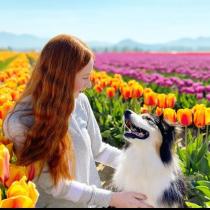 Mary and Secret
Country/Region:America
Category:
Mary and Secret

Statistics Analysis (30 Days)
Mary and Secret

Hot Videos

I want to thank you all, again, for being there for me through everything. After Secret passed, I had people coming up to me in grocery stores to tell me they recognized me and to tell me what an impact Secret's videos had on them. To this day, people are still making donations on her go fund me that will go into a foundation for canine cancer research. I have received heartfelt packages and letters from so many, and though I couldn't bring myself to respond properly at the time I want you to know I treasure each and every one. Thank you for hoping, for fighting, and for grieving with me. For the first time in many months, I feel like I can breath again. I'm now back taking classes after working at the vet all summer. I know my purpose again, and I know I'm on the right path.
114.58M
20.09M
17.54%
20.56K
130.55K
367.72K
So glad to have something to be thankful for this year❤️ Promise at 8 weeks
1.34M
258.58K
19.27%
169
2.72K
1.75K
Promise at 9 weeks❤️
531.01K
89.3K
16.82%
62
906
938
Please join our TikTok Inspiration Facebook group
We'll share the latest creative videos and you can discuss any questions you have with everyone!

Digital tools for influencers, agencies, advertisers and brands.
Independent third-party company,Not the TikTok official website.
Copyright@2021 ixspy.com. All Rights Reserved